What to do if I don't have the "Check Out on Website" button on my products in the Facebook shop?
To allow your Facebook visitors to finalize their order on your website, you have to see the "Check Out on Website" button when you click on a product in your Facebook shop: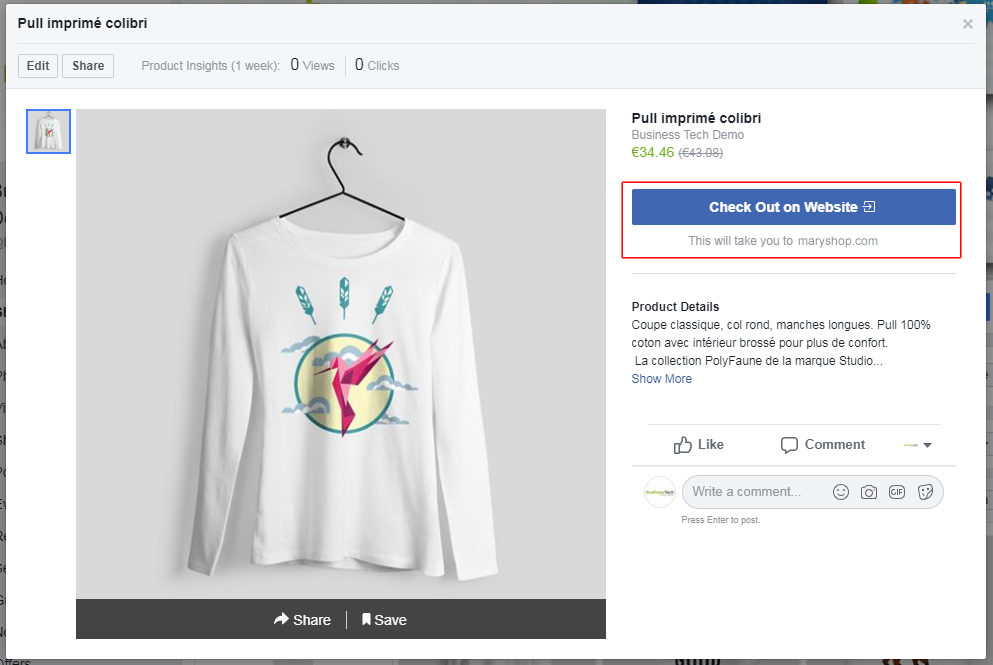 If a "Contact" button appears instead, it's due to a wrong configuration when the shop tab was created. Please note that this is in no way due to the module. This is a configuration issue on your Facebook Page tabs side only.
Indeed, Facebook offers two types of shop: a shop that redirects users to your website to finalize their payment and a shop that allows users to contact you to know more about the product concerned (but that does not redirect to your site).
If you note that this is the "Contact" button and not the "Check Out on Website" button that is displayed on your Facebook shop products, the only way given by Facebook to modify the type of shop section is to start from scratch. Follow the following procedure:
First you have to delete your current shop tab in order to re-create one corretly set: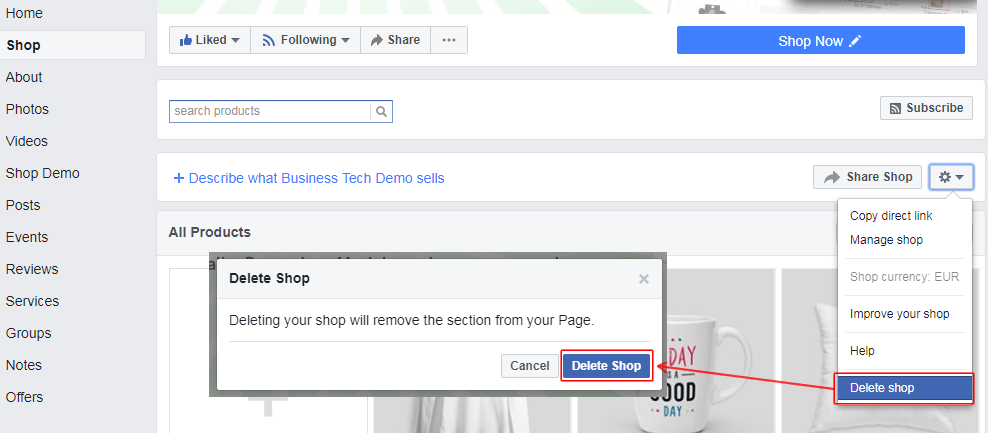 On your Facebook Page click on the "Settings" tab at the top of the page:

In the left menu click "Templates and tabs":

In the list of tabs, if you still see the "Shop" tab, you can go to the next step.
If you no longer see it, go to the end of the page, click "Add a tab" and on the "Shop" tab line, click again "Add a tab". Then click "Close":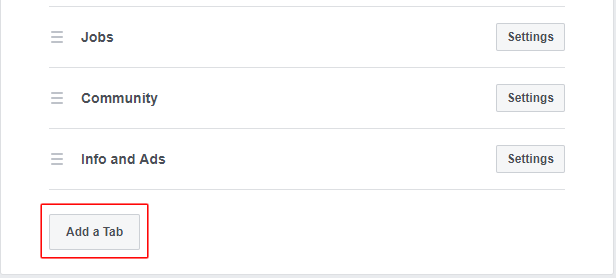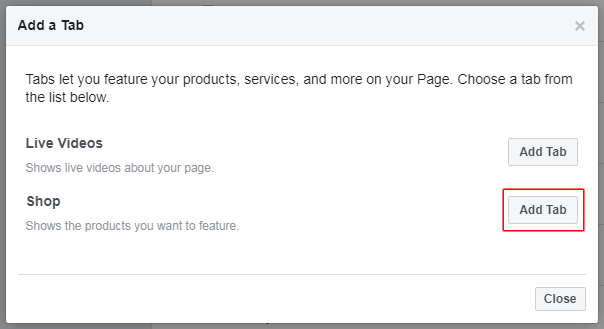 Go back to your Facebook Page and click the "Shop" tab
Check the "I agree to the Merchant Terms and Policies" field and click "Continue". You may need to enter your Facebook password again for security purposes.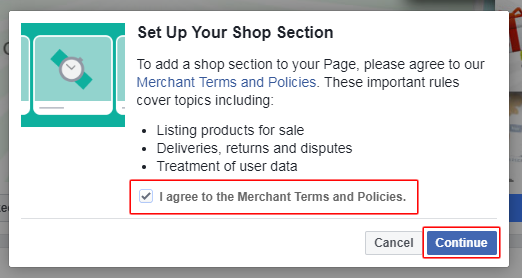 This time, choose "Check Out on Another Website" for the payment option and click "Continue":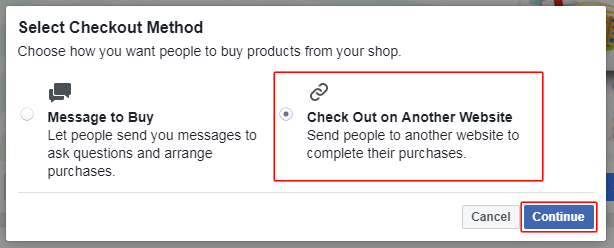 Choose the currency to use. This currency will apply to all your products and can't be changed unless, as for the type of shop section, you delete your shop and create a new one. Click "Save":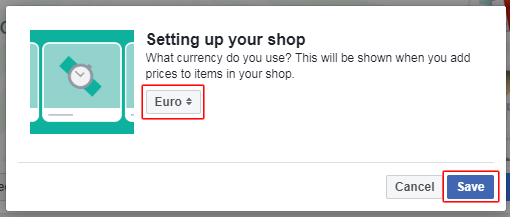 Then, to re-import and automatically update your products in this tab, go to the "Catalog Manager" section of your Business Manager interface:

The catalog that was connected to your old shop tab is normally always present but it is not connected to your new shop tab. It was connected to your old shop tab but it was removed. You can either keep it, for example if you have launched advertising campaigns on the products in this catalog, or delete it, by going into the catalog settings (however, be sure that the catalog data is not used anywhere, because everything will then be stopped or deleted). Anyway, this catalog will no longer be used for your shop tab.
You should normally see a new catalog created by Facebook when you added a new shop tab to your Facebook Page. It is this new catalog that is now connected to your shop tab and it is in this catalog that you will have to re-import and re-schedule the automatic updates of your products. For now, it does not contain any products:

In the column "Your access" check that you have a role of administrator of the catalog (it must be written that you can "Create Ads" and "Manage Catalog"). If this is not the case, ask the owner of the Business Manager account to grant you the rights.
Once you have done these verifications, re-import your products into the catalog in order to see them appear in the shop tab. To know how to do, click here.
Once the import is done, click on a product of your Facebook shop and check that you see the "Check Out on Website" button.