Why are my rich snippets not appearing in Google results?
If your site rich snippets don't appear in Google natural results, whereas you think you have configured all correctly, you have to proceed as follows :
First of all, you have to test your theme rich snippets presence and compliance, by following our FAQ called "How to test my theme rich snippets markup?". Indeed, you will see in this FAQ that Google provides a tool to test the compliance of the structured data markup of a web page. Once you know whether or not your theme includes rich snippets, move on to the next point (note that if it includes them, it must do so in a compliant manner, otherwise you must ask your theme editor or your webmaster to do the necessary ajustements).
Then, please read our FAQ on whether or not to activate the module "Include product rich snippets code" option by clicking here.
Once you've followed the previous documents carefully and made the necessary adjustments, be aware that you must wait for Google to re-index your pages and updates its database. This means all your website's pages must be reindexed by Google in order to take into account the changes made to your rich snippets. This can take time, up to several weeks, so please just be patient. You can also use "Google Search Console" (previously "Google Webmaster Tools") to see when your pages were last indexed (by clicking on the relevant URL).
However, please be aware that this can change over time, and your results may sometimes have their rich snippets disappear and reappear randomly. This is where it gets somewhat obscure, as Google does not give any precise explanation...
Indeed, please note that even if your rich snippets are fully compliant and do not generate any errors in the structured data test tool, ONLY Google decides whether or not to display rich snippets in the natural results of its search engine... In fact, Google reserves the right not to display your rich snippets if they do not bring a high quality search experience for all the users.
See by yourself what it is reminded in the structured data general guidelines in Google for developers official website: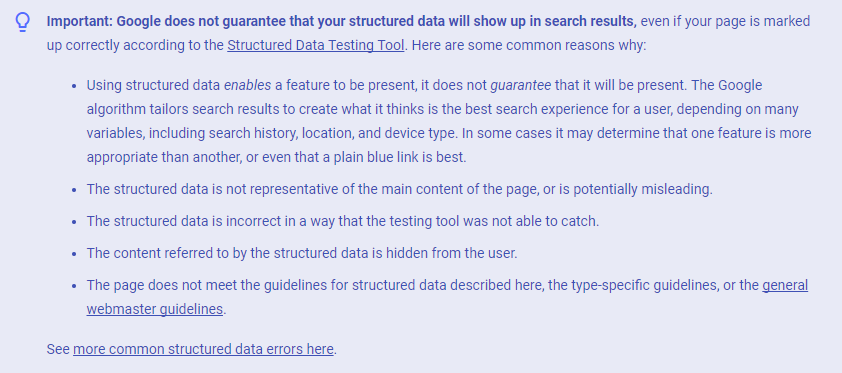 Click here to see the general webmaster guidelines.
Click here to see more common structured data errors.
Also see the reply from one of Google's employees on their forum, about snippets processing (see the reply from "Zinebb" at the bottom of the page). Here is the english translation of this :
"Google does not guarantee the display of rich snippets in the search results pages.
The test tool only allows you to test that your structured data is technically well implemented and taken into account by Google. This does not mean we will display them. We use several quality criteria to decide whether or not to display rich snippets in our search results."
In conclusion, only Google has "the last word" concerning the decision to display your rich snippets in the natural results of its search engine. If, despite a correct markup of your site, the rich snippets don't appear in search results, try to improve the content quality of your site and to strictly respect the SEO good practices. This should maximize your chances to have them displayed.
We remind you that the module provides a fully functional and correct mechanism to add the rich snippets code to your website, but that it is in no way responsible for your rich snippets being displayed by Google or not. Only Google themselves can give you a more precise reason why your rich snippets are not displayed in results.