How to use the shortcode generator?
If neither the default positions offered by the module nor the advanced position tool using the html elements of your pages are suitable for positioning your connectors, you can use our shortcode generator to obtain exactly the expected result.
For example, by default, on the authentication page (login page) of your site, the module allows to position your connectors just below the "Sign in" button. But this may not suit you. In this case, you will need to use the shortcode generator and paste the generated code snippet in your theme template which corresponds to the login page.
Moreover, some overrides or theme changes may imply that login buttons do not appear on your site. In this case, you must use our shortcode generator in order to correctly implement the connectors.
In general, going through the shortcode generator is the best way to get exactly the result you want on your site.
NOTE: This tool requires some technical skills. If you are not comfortable with this, we recommend that you ask your technical contact for help.
To generate a shortcode, go to the module "Position advanced settings for pro (shortcode)" tab and click on "Generate new shortcode":

A "modal" window opens. Indicate the name of this custom position. Be careful: use a different name than the default position names or the names of custom positions already created (either with html elements or with the shortcode tool). Each position must have a unique name.
In the following example we have chosen the "Login advanced position" name. Then, choose the size of the connectors and which buttons you want to display: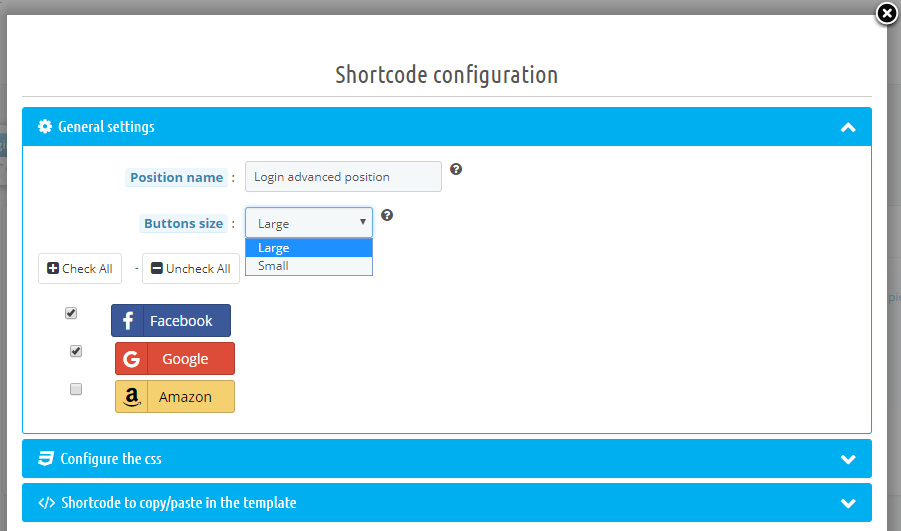 Click on "Configure the CSS" to define the background and border color, the display or not of the login text and the spacing to insert: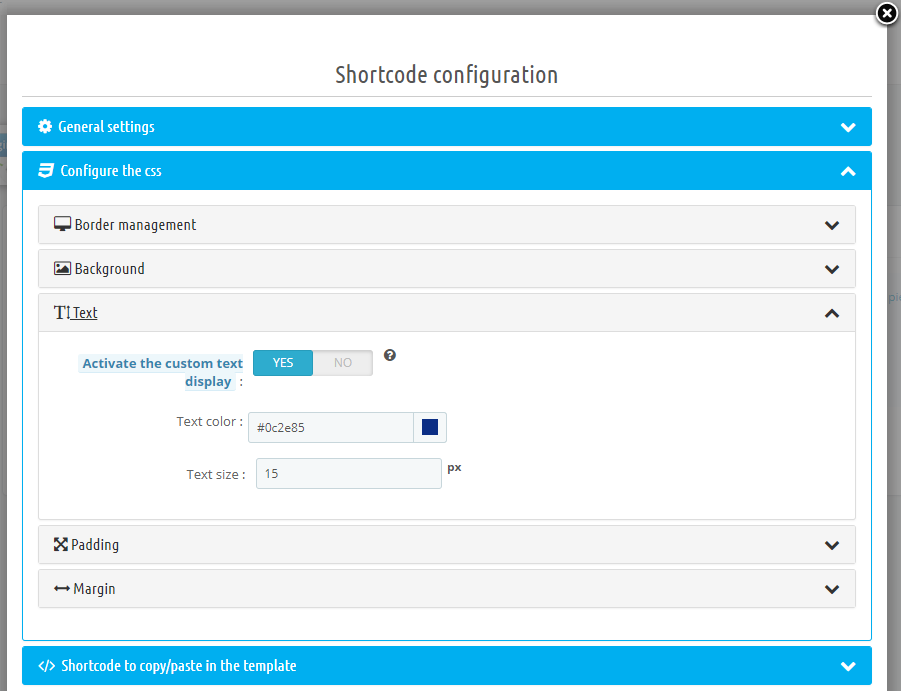 Then, click on "Shortcode to copy/paste in the template" and on "Save" in order to generate the shortcode: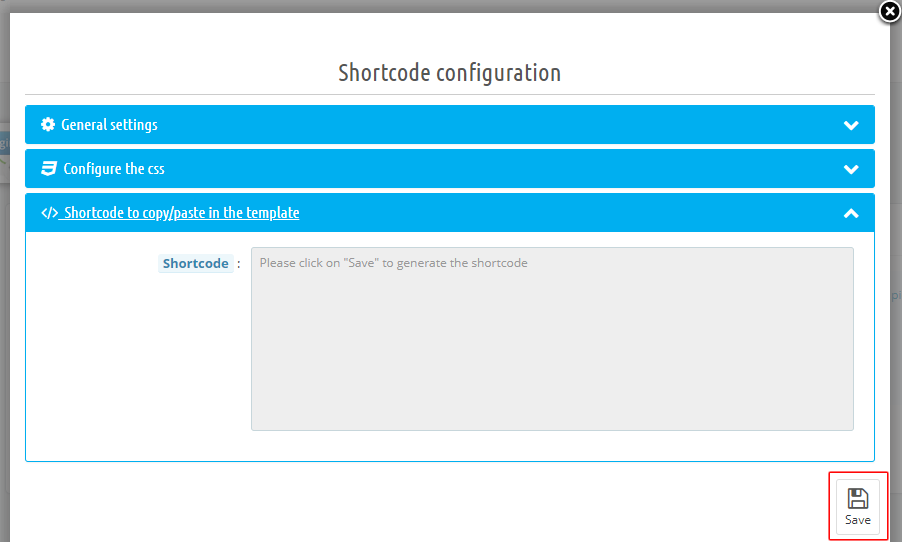 The shortcode is then generated. Click on "Copy to clipboard" and paste the generated shortcode exactly where you want into your theme template which corresponds to the page on which you want the connectors to appear. Do not forget one short code should be included only once into the source code of the same page.
For example, if you want to display the connectors right above the "Email" and "Password" fields of your login page, open your theme template corresponding to the login page and paste your shortcode just above the code lines matching with the authentification fields: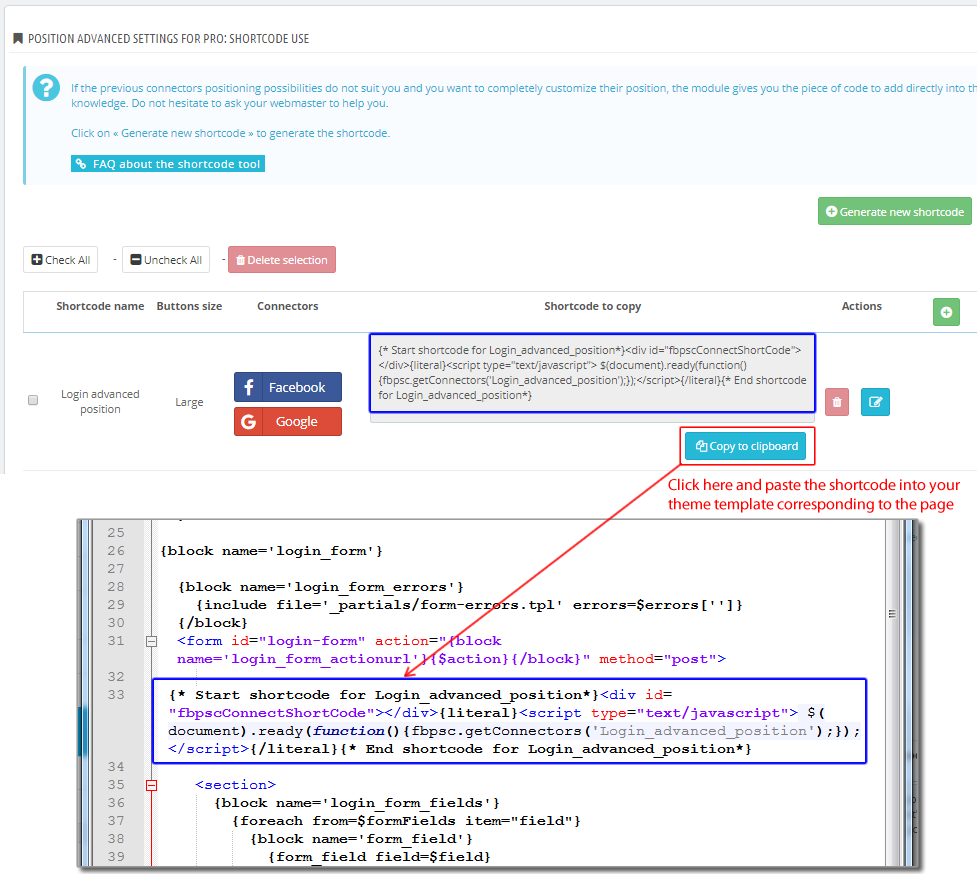 Save and check the result on your shop: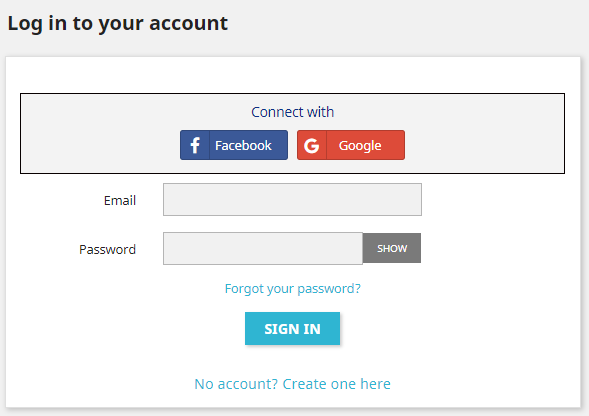 Other FAQs in this category