How to configure Facebook app's parameters?
In order to automatically (or manually) post on your Facebook Page your products, categories or brands, you must first create a Facebook application and configure it correctly. To learn how to do, click here.
Once your app is created, you have to link your Facebook administrator profile, and your Facebook Page, to the module via the application. These two actions will allow the module to automatically post on your Facebook Page, through the Facebook app.
To do that, in the "Facebook application settings" tab, below the field of "Your main Facebook PROFILE Access Token", click on the green button "Click here":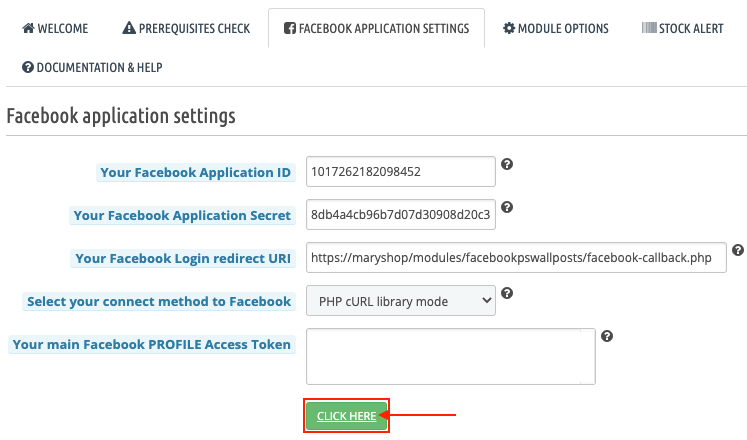 You should see this type of message: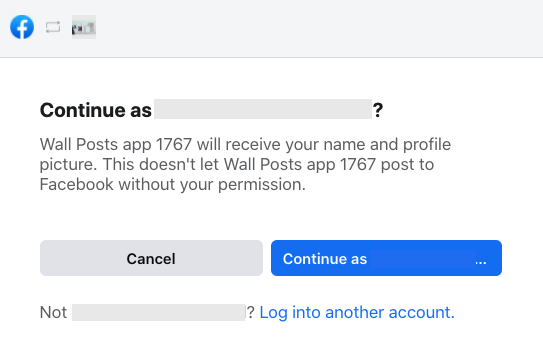 Click on "Continue as...". On the next screen, check the Facebook Page on which you want to publish and then click on "Next":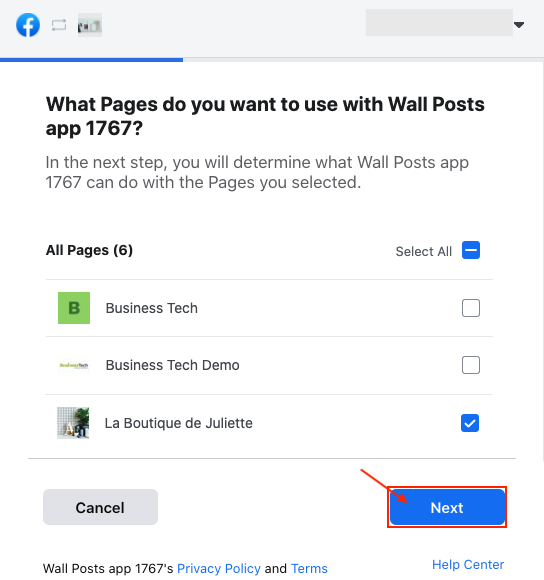 You are asked to check what the application is allowed to do with the Facebook Page you just selected. Don't pay attention to the message framed in red at the top of the window, you no longer need to submit the application for validation for use as it is done by the module.
Check that the 3 permissions are well selected and click on "Done":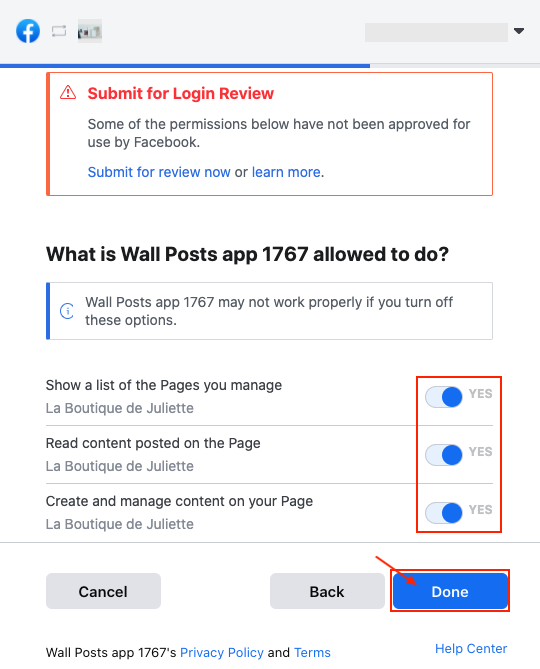 Facebook then associates your Facebook personal profile with the app and displays a success message. Click on "OK":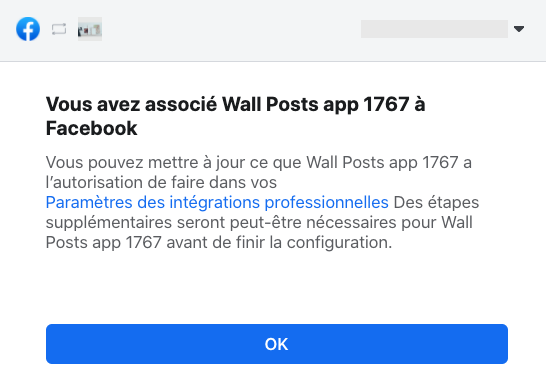 You are redirected into the back-office of the module and the following message should appear:

Click the "Click Here" link to retreive your Profile access token.
Return to the "Facebook application settings" tab. The Profile access token should be filled in: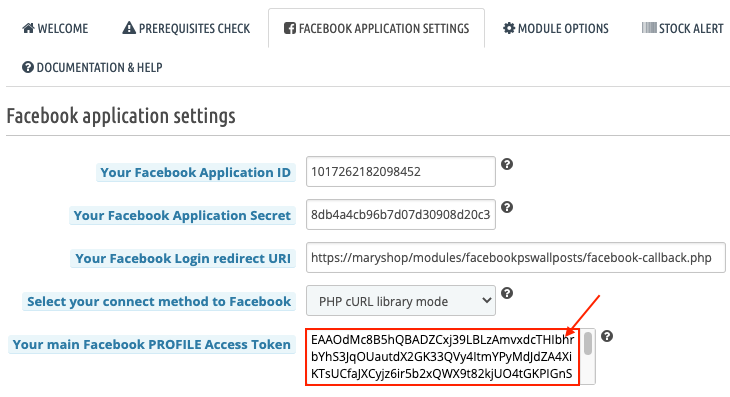 Now you have to retreive the access token of the Facebook Page you have previously selected when you have linked your Facebook Profile. Click on the second "Click here" button that is below the field "Your Facebook PAGE Access Token":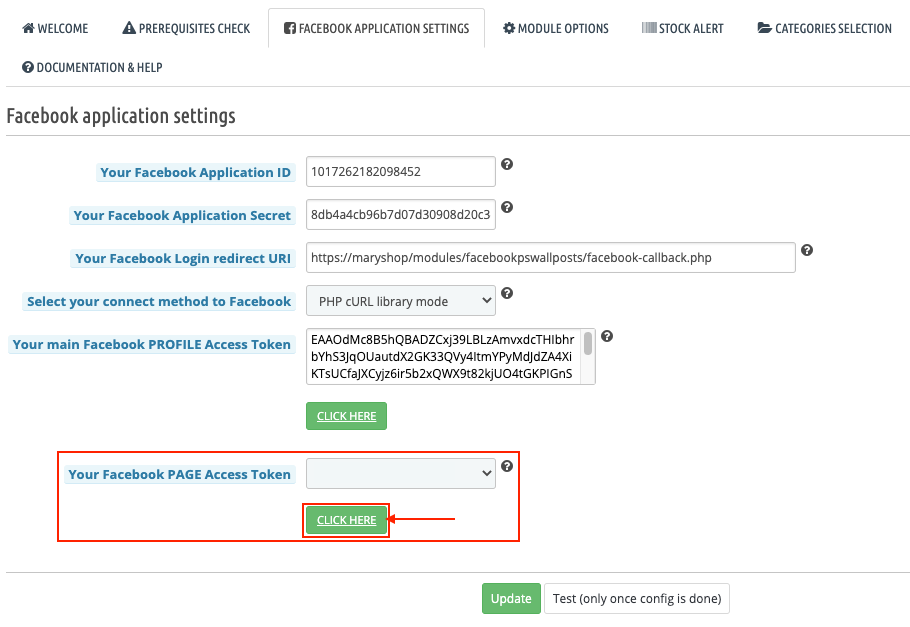 You should see the name of your Page in the drop-down menu. Select it and click on the "Update" button: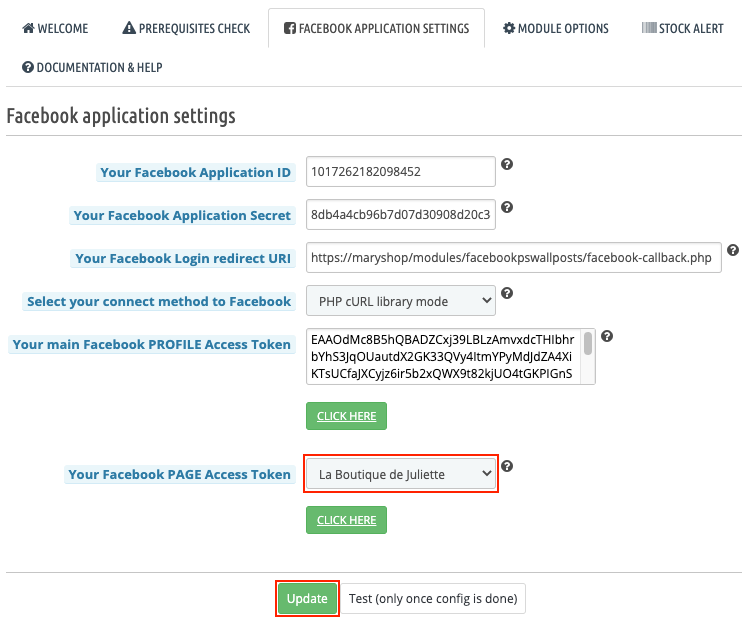 We will now test if the publication works by doing a test with the manual publication of a product from your catalog. This test post will appear for everyone on your Page, but once the test is validated, you will of course be able to delete it through your Page.
Go to the "Manual Publication" tab of the module :

In the "Products" section, start typing the name of one of your products in the input field and then select it from the list of proposals: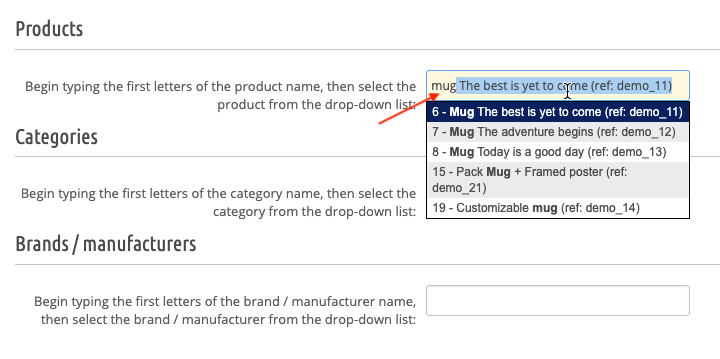 Indicate a title for the publication (optional) and click on "Publish on Facebook now":

Go to your Facebook Page and check that the product has been published (don't forget to reload your Page to see it appear):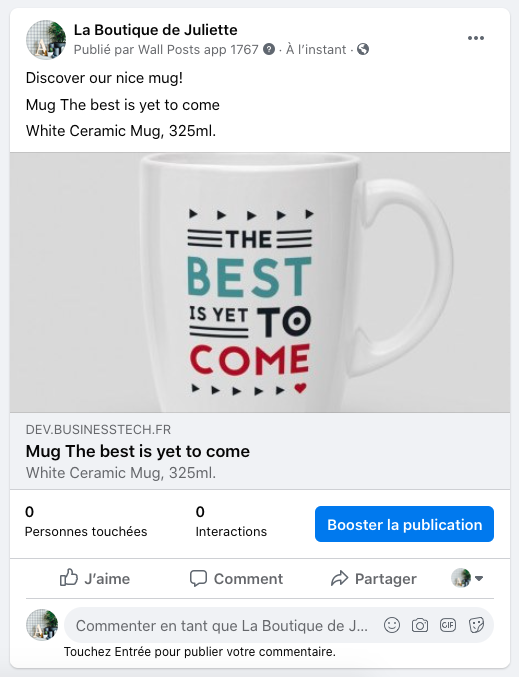 All you have to do is configure the other tabs of the module as you want, especially in order to launch automatic publications.