How to configure the e-commerce feature?
If you want your customer data, product catalog, shopping carts and orders placed on your site to be automatically synchronized with MailChimp, in order to set up automated e-mail campaigns, you must activate the e-commerce feature of the module.
To do this, after choosing a MailChimp list and doing a first synchronization of your users' e-mail addresses, go to the module E-commerce tab and select YES to enable the feature:

A list of options appears to allow you to configure the synching of your e-commerce data.
Language for product information
First of all select the language(s) in which you want to export your product information. Indeed, if you display the description of your products in several languages on your site, when you are going to write your automated e-mail campaigns, you will need to make different e-mail templates according to the language of the recipients. In each template, product information should be in the targeted language for maximum consistency. For example, if you display your product information in French and English on your site, it will be necessary to export your product details (title, description, link) in both languages so that you can then make your choice in your e-mail templates. That being said, if you display your site in three languages, for example, but you only want to configure your campaigns in one language, you can export your product data in only one language, which will reduce the synchronization time. To select multiple languages, hold down the CTRL key.

If you don't select any language, the module will export the product information in your shop default language only.
Product description type
Select the product description type to be exported:

Note: If the descriptions are too long, you may encounter some synchronization problem when updating products in your back office. So, if you don't really need the product descriptions, don't export them or choose a description type that's not too long.
Product image size
Select the best image size to present your products in your e-mails:

We recommend that you make several email tests to find out which image size is best suited.
Products vendor
MailChimp asks for the name of the vendor of the products. You can choose between indicating the brand name or the supplier one:

Product type (wording of categories)
MailChimp asks that the type of products sold be indicated. The module offers you either to fill in the current category of your products or the complete breadcrumb trail. Indeed, in the case where several subcategories have the same name, you may want to distinguish them by going up in the category levels through the breadcrumb trail.
Past order statuses
Concerning the export of your past orders, if you want to do it, know that the module will export only orders whose current status matches with one of the statuses you have selected: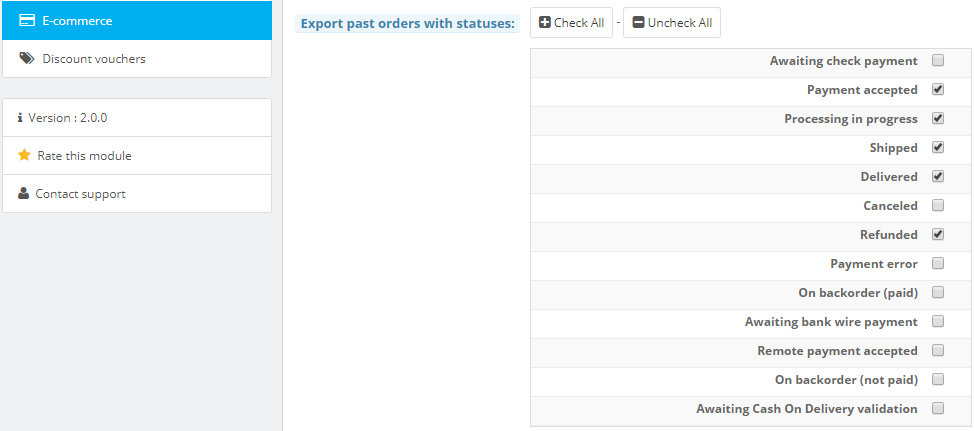 Once the configuration of e-commerce data to be synchronized is finished, the module ask you to choose a synching mode. To do this, click here to follow our related FAQ.
Finally, click "Update" to save your configuration and go to the "Synching" sub-tab if you have never done a first synching of your e-commerce data. Indeed, to enable the automatic synchronizations, it is necessary to do them a first time manually. To know more on this part, click here.