How to segment the sending of abandoned cart automations?
If you already tried to create an abandoned cart notification campaign, you should have noticed that it is not possible, at the time of creation, to configure the sending of this automation to only a specific segment of your list. Only the time period following the cart abandonment is configurable:

This may be a problem if you want to write different templates of abandaned cart notification according to the type of recipients and send each of them, thanks to the list segmentation, the appropriate template.
In fact, it's possible to send the "Abandoned cart notification" automation to a specific segment of your list, but this is not configured when the automation is created but after it is started.
Indeed, first create your automation by indicating when the email should be sent (in "Sends to"), its origin ("From"), its subject and finally its design ("Content"). Once it's done, start the automation sending by cliquing "Start Sending":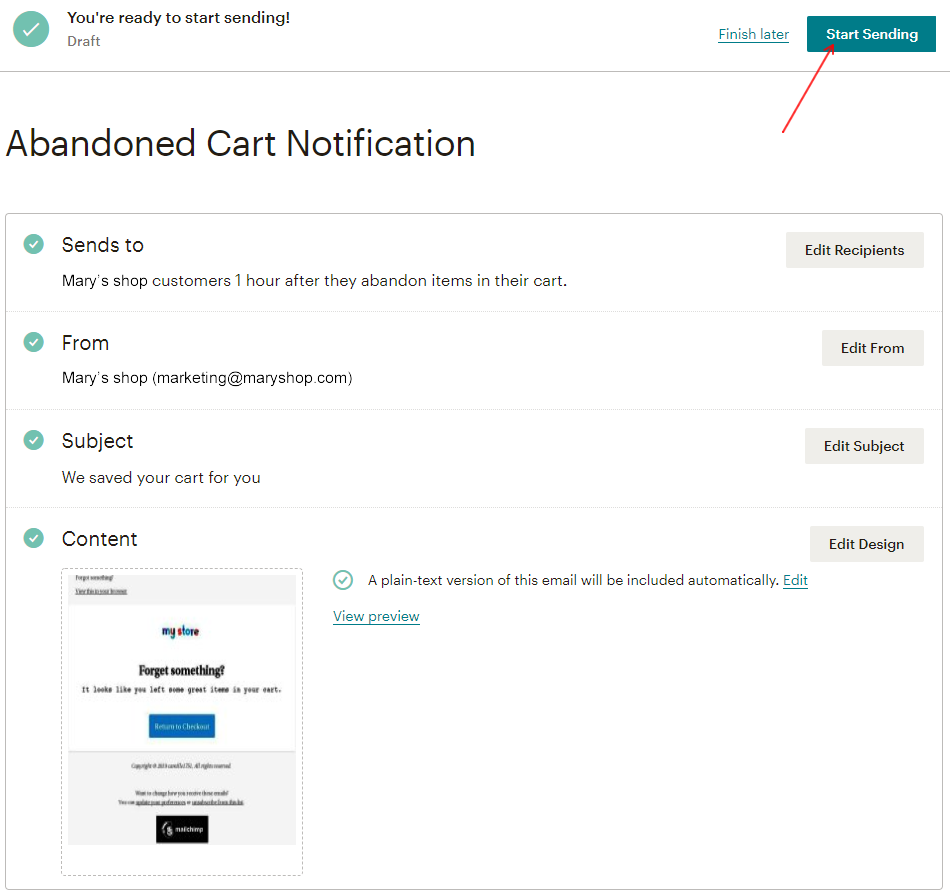 Then click on "Start" in the pop-up window that appears:

Return to your campaigns list and on the line matching with the automation you have just created click on "Edit":

Click on "Remove contacts from queue":

On the screen that appears you can select the segment of your list that you want to remove (and not the one to which you want to send the e-mail). If you have already saved this segment, click on "Subscriber is member of saved segment" otherwise click on "Subscribers match the following conditions" to create it.
For example here, the e-mail template has been created to be sent only to French customers (because it has been written in french, for example). Previously, two segments of the list have been created: a "FR" segment that includes all French-speaking customers and an "EN" one with all other customers. Since this e-mail have to be sent only to French-speaking customers, the "EN" segment has been selected (this is a subtraction here, customers who do not speak French have to be removed from the entire list of customers so that only those who speak French remain).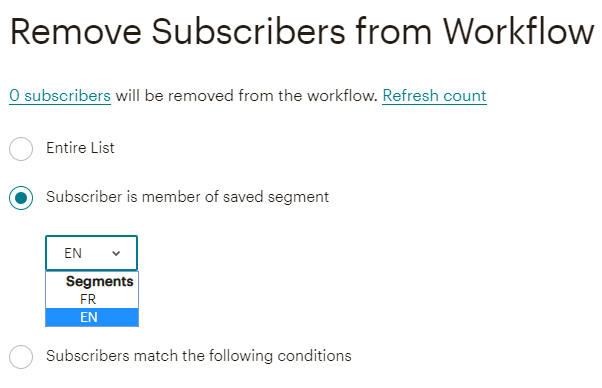 Once you have selected (or created) your segment, click on "Remove subscribers from workflow":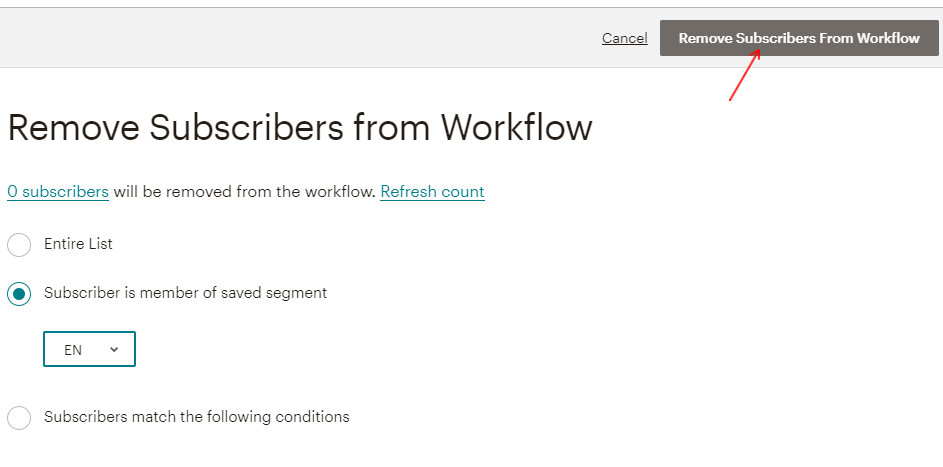 Note: Since you have just created the automation, the number of "subscribers" removed from the workflow may be zero because no contact has yet abandoned a cart on your site.
In our example, all cutomers who abandon their cart and who are not French-speaking people (who belong to the "EN" segment) will not be placed in the queue for this automation sending and will therefore not receive the reminder e-mail.