How to manage carriers for my Shopping Actions orders?
If you have a shipping service set up in Merchant Center, you can either reuse that service or create a new one just for Shopping Actions. The shipping model you configure allows you to inform customers about shipping costs and give an estimate of the delivery date.
Attention: PrestaShop does not natively manage delivery services in a pick-up point, it is not possible for you to offer this delivery method for your products ordered on Shopping Actions, if you want to use our Google order processing service through PrestaShop. Of course, you can continue to use it for orders placed on your site.
To know more on shipping costs configuration, click here. Do not forget to select the country where you use Shopping Actions in order to read the rules for that specific country.
When you receive an order placed on Shopping Actions, our application will create it in your back office. To do this, we need to associate it with one of the carriers configured on your shop in order to create the line corresponding to the shipping costs. In the "Google Shopping Actions" tab, select the carrier to be associated with Google Shopping Actions orders by default:

Be careful: logically, it should be a carrier that has the same shipping rules as those defined on your Merchant Center account so that it matches what the customer paid and your accounting reports are accurate.
Any order coming from Shopping Actions will therefore be associated to this carrier by default. However you always have the possibility to change the carrier for a given Google order, by going to your order management in your back office and updating the carrier of the order concerned: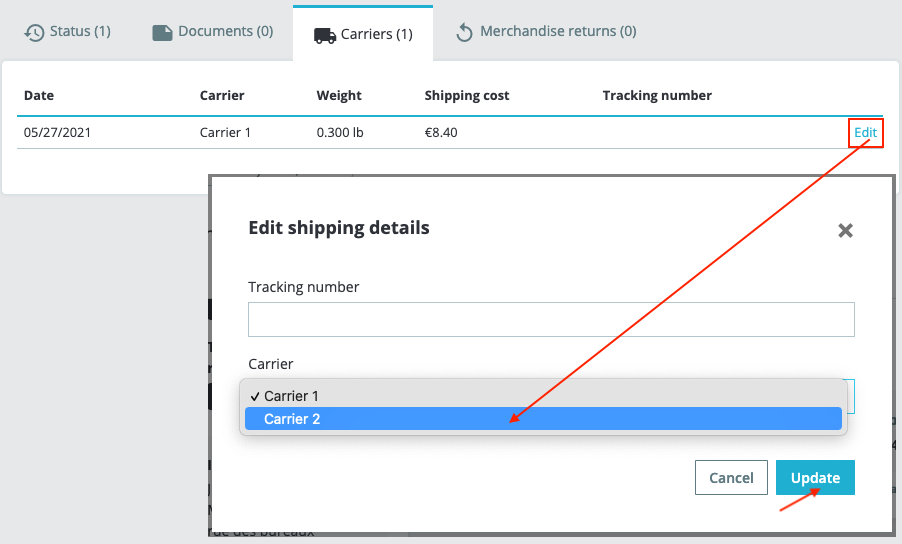 Then, when the order status goes to "shipped" on your shop, our application must send the information to Google, specifying the name of the carrier that will be used for this order as well as a valid tracking number (mandatory). However, Google only allows a list of specific values for the carriers you will find here (section "Supported carriers"). If the carrier name you selected above exactly matches one of the values required by Google, then there will be no problem. But if not, you need to indicate the carrier "official" name that corresponds to the selected carrier. For example, if the UPS carrier is named "Carrier #1" on your shop, you must associate "Carrier #1" with "UPS" in the module so that the name of the carrier is recognised by Google.
To perform this mapping, go to the "Google Shopping Actions" tab of the module, in the "Matching with Google's carriers" option:

Please note: it is strongly recommended that you make the correspondence for all the carriers present on your shop and not only for the one you have selected by default for Google Shopping Actions orders in the previous option. Indeed, if for some reason you need to change the carrier of an order, it must also be associated with a valid carrier value. The module will always retrieve the last carrier value indicated for an order (and will send the official name associated).
Note that you can associate the same official value for several of your carriers if needed.