Why doesn't the product photo appear on Facebook?
1. If you have a PrestaShop 1.6 version : use the option of delayed posts
On PrestaShop 1.6, when you create a product, you are required to first register basic information, such as the product name, before you can upload an image. However, if in the module, you select the option "Post on product creation" for the option "Automatic posts management for new products", when you will register your product for the first time to be able to upload an image, it will be published on your Facebook Page without an associated image...
Therefore, we advise you to select "Put in queue and delayed post" for this option instead, to avoid this problem: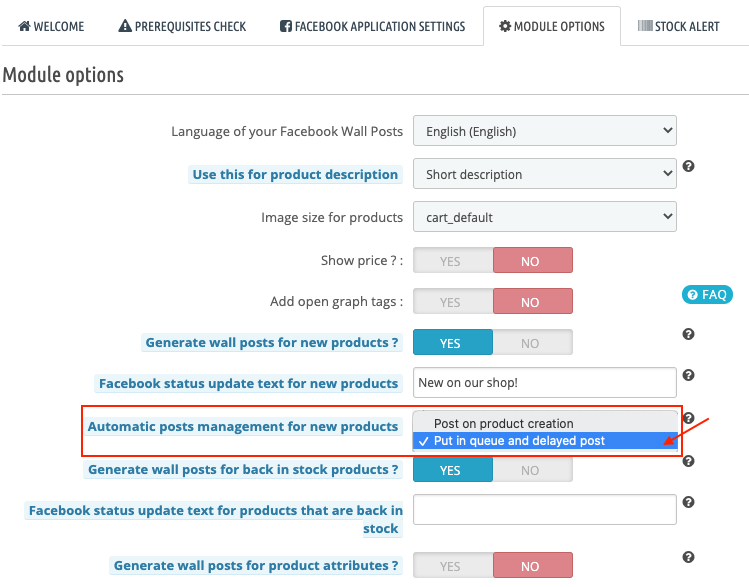 When you choose this mode, all products will be queued in the "delayed posts" tab of the module. Once all your product files are completed and active, with photos and all the appropriate data, go to the "delayed posts" tab of the module and post all or some of them in one click.
2. Whatever your PrestaShop version
If you have created new image sizes, make sure that you have correctly generated the images in these new sizes by going to the "Design -> Image Settings" tab of your back office (or "Preferences -> Images" tab for PrestaShop 1.6 versions). Regenerate them if necessary.
Then check that you have selected the right image size in the module configuration, in the "Module options" tab: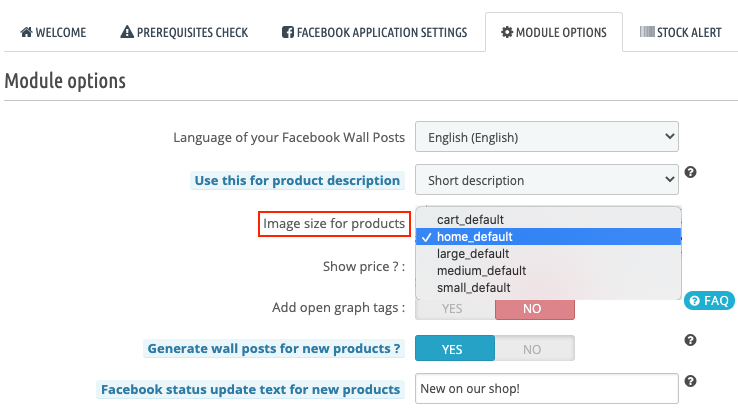 Note that the larger the image the better.