Why my prices must not dynamically change (according to geolocation for instance)?
Google requires that each product on Google Shopping has a non-null associated price.
Check that you have defined a price for all your products and that the value isn't zero (note that sometimes, import tools generate null prices).
To read the Google's official guidelines about the prices of products you want to avertise on Google Shopping click here.
Need for price consistency
First of all, you should to know that for Google, it's essential that the user experience is consistent.
Thus it is essential that when a user sees a certain price on a shopping ad, when he clicks on the ad he sees the product at the same price as the one announced. The "landing page" is where the user is sent after clicking your Shopping ad. When a landing page doesn't match your ad, people are more likely to leave your site without buying anything. Google wants to avoid this at all costs.
So you must make sure the prices displayed on landing pages always match the prices you advertise (i.e prices you export in your feeds) and this, regardless of the user's device, browser, location, cookies, your ad targeting choices, or any other consideration.
So when a Google agent checks your product feeds, he checks that the prices in the feed match those on your landing pages. However, this agent must be able to test price consistency regardless of the country in which he is located. Prices (and therefore taxes if they are included in the prices), like some other "key" product data, must not change dynamically depending on the geolocation. For more information on landing page requirements click here.
You must make sure you configure your Google Merchant Center module so that prices exported in a given feed, for a given target country, are the same as the prices displayed on the matching landing pages (i.e product pages corresponding to this target country).
In particular, make sure you configure correctly the tax tab. Indeed, some countries require tax to be included in the product prices displayed on your website and other ones don't. To find out whether or not you have to include the tax in the displayed prices of your products on your site, check out Google's official documentation on this by clicking here. In any case, if the target country requires the display of prices with tax, it is essential that the prices included in the feed also include taxes.
Notes:
If you made some price modifications and you don't see them on Google Shopping, read our FAQ on the topic by clicking here.
To know how to check the price values exported by the module, click here.
Case of a multi-currency shop
If your shop uses multiple currencies, make sure that for each of countries in which you want to make Google Shopping campaigns, you set up the currency expected by Google. To know which currency is matching with each country, please see the official table published by Google.
If your shop uses multiple currencies you must select "YES" for the option called "Add id_currency in product link" in "Basic Settings" tab of the module. Then you must override the Tools.php class. This is obligatory so that Google can read the right prices in the right currencies. To know how to override this Tools.php class please read our FAQ on this topic.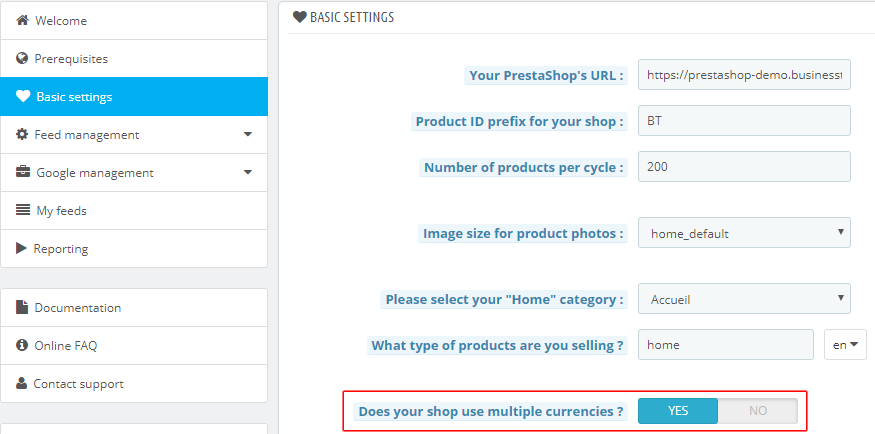 Other FAQs in this category