What are the guidelines for quality product titles?
Google requires that each product on Google Shopping has an associated title. The title has to accurately describe your product. Don't include promotional text like "free shipping," all capital letters, or gimmicky foreign characters. Google also gives more weight to the words that appear first in your title, so consider carefully the structure and order of the words.
Please read the Google's official guidelines about the titles of products advertised on Google Shopping attentively by clicking here.
In theory, all your products should already have one. But it is possible, if you have a shop in multiple languages, that you forgot to indicate it in all languages. Make sure you have done this.
Also, the module allows you to add, in the product title, in addition to the name, either the brand, or the current category(*). Indeed, the title is one of the most prominent parts of your ad. A specific and accurate title will help Google show your product to the right users.
In a general way, always keep in mind that the more information you will provide about your products to Google, the better your feed will be and the better your products ranking will be in Google Shopping.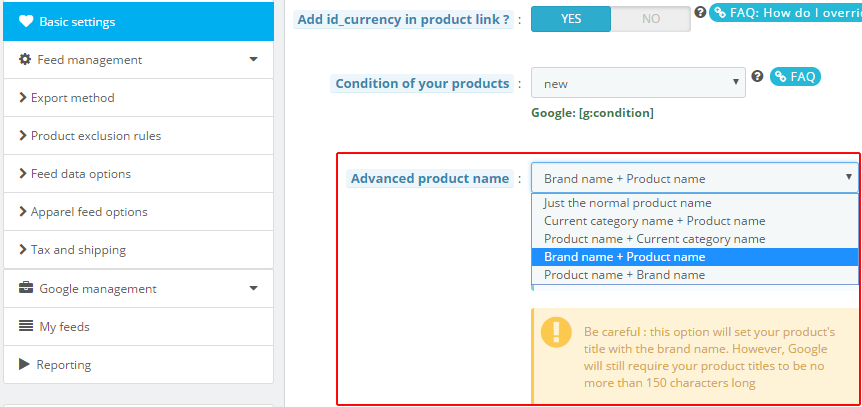 However, please note that Google Shopping requires that products have titles (product name only or with brand or current category name) no longer than 150 characters. If the title exceeds 150 characters, the module won't export the product in order to prevent Google from truncating its title and sending you a warning (Google may refuse your feed if you get too many warnings). You will get an error message in the diagnostic generated by the module notifying you that the product won't be exported because of the lenght of its title. So, make sure your title includes less than 150 characters and if not, modify it.
(*) The PRO version of our Google Merchant Center module also offers, from its version 1.7.0, to use the product meta title or to add free words or sequences of words to the product name. To know more click here.