How to import my products into a catalog I created?
To create ads in different languages or for different currencies, you first have to create your own catalogs (one catalog per different "Country/Language/Currency" group) in the Facebook Business Manager. Click here to know how to do.
Then, you have to import the product data that match with each different "Country/Language/Currency" group in the matching created catalog.
Important note: please note that to be able to add products to a catalog, you have to be "admin" of the catalog. If you're just "advertiser", ask the company who has created the catalog to give you the necessary rights by giving you an "admin" role.

To import your products, follow the following procedure:
On your Facebook Business Manager interface, click on the three horizontal bars of the menu, hover over the "All Tools" words and click on "Catalogs":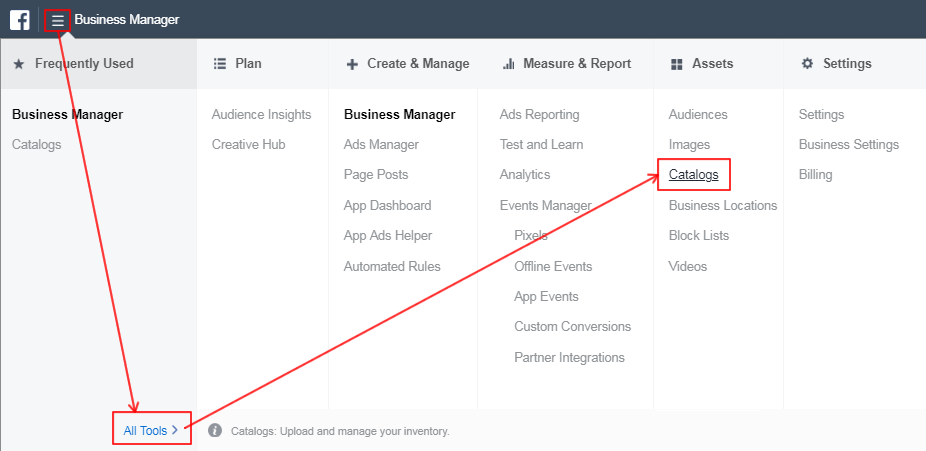 Click on the name of the catalog in which you want to import your products. For example, the product catalog for USA, english language and USD currency:


You are then asked how you want to add products. Select "Use Data Feeds" and click "Next":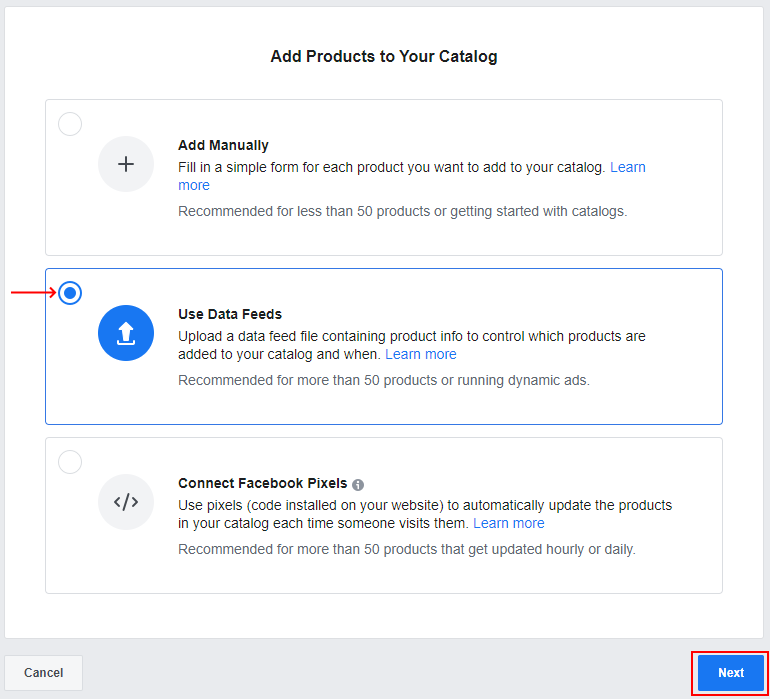 On the form that appears, select "Set a Schedule" to set up a recovery frequency of your product data so that it's always up-to-date: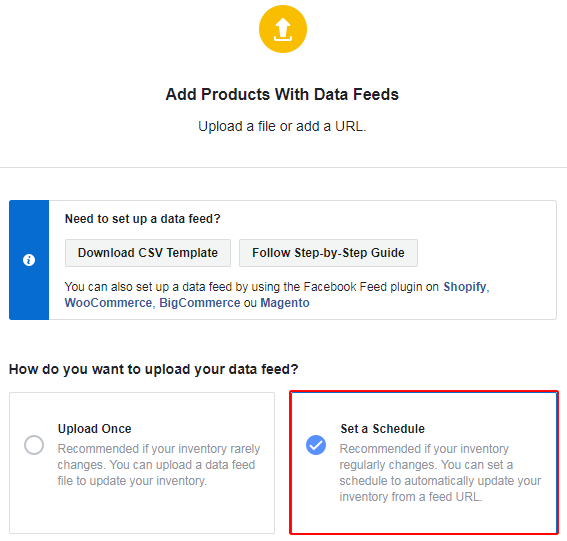 Then, you are asked to enter the data feed URL. You have two solutions to automatically update your feeds on Facebook (click here for more details):



Either you have a small catalog (typically <1000 products) and you can ask Facebook to fetch, at a certain frequency, your data "on the fly" on your site, i.e "in real time". In this case, in the "Add a Data Feed URL" field you have to indicate the URL of product data "on the fly" recovery that is in "My feeds" tab, in "On the fly output" part:



Or you have a large catalog (typically >1000 products) and you have to first set an automatic task up (CRON task) which will fill a "physical" file out, at a given frequency, with your product data (to know how to create a CRON task, click here). Then, Facebook will fetch this file, at regular intervals, to update your products. The URL you have to enter is therefore the URL of this XML file:


Once the URL is pasted, if your data feed URL is password protected, enter your login details:

You have then to set the recovery frequency of your data by Facebook. Choose whether you want it to be every hour, every day or every month, and then specify the day/hour of revovery.



Important note:

if you have created a CRON task to update an XML file that will be retrieved by Facebook, be careful to set this CRON task so that it updates the XML file

before

Facebook retrieves it. Also try to space the schedules of both tasks because depending on the size of your catalog, updating the XML file may take more or less time. For example, if you have set your CRON task so that the XML file is updated every day at 3:00 am, set the file recovery by Facebook at 6:00 am. Also, be careful that the time zone selected is the same for the CRON task and for Facebook recovery.
Then enter a name for your data feed. Since to a data feed corresponds an unique "Country/Language/Currency" group, we advise you to indicate them in the title. For example, for a diffusion through the USA, in english and for the USD currency, we can write: "Feed EN en USD":

Finally, indicate the feed currency:

Click on "Start Upload". Your product import on Facebook begins. When it's finished, click on "Done":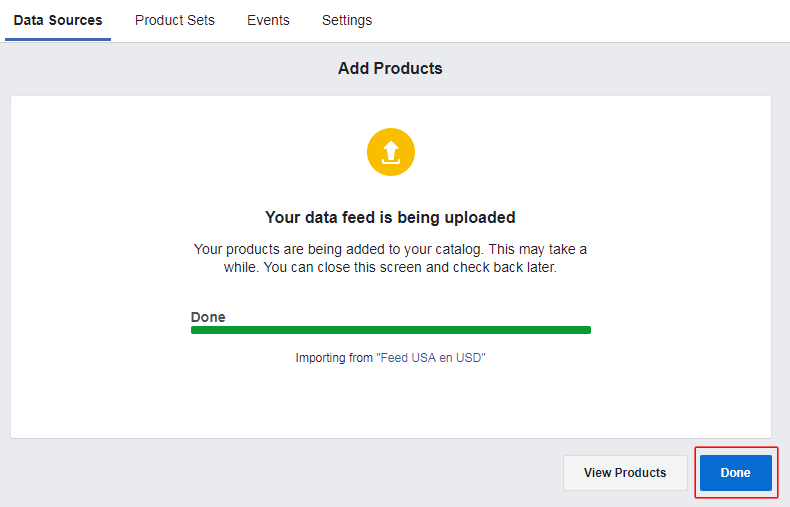 Check that your products have been imported properly by clicking on "Products" tab: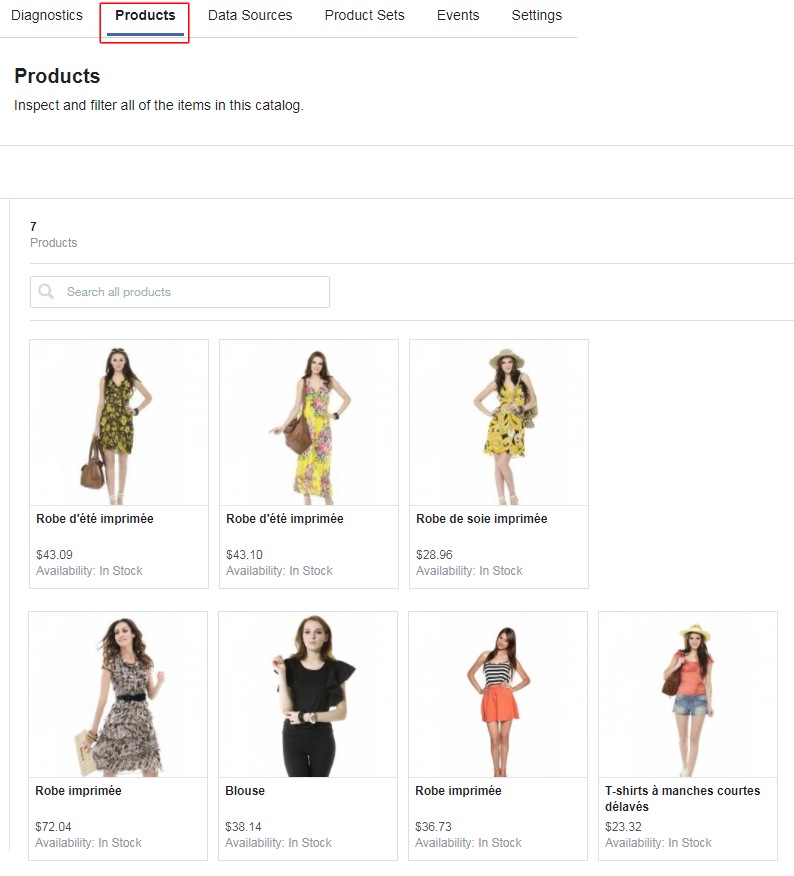 Re-start the previous steps for all your product catalogs (as a reminder, to a catalog corresponds a feed, i.e an unique "Country/Language/Currency" group).
Don't forget that to track the activity of your customers and vistors on your shop, and to be able to set dynamic remarketing ads, you have to install a Facebook pixel on your shop. To know how to create and install it, click here. To test the pixel working, click here.
Now that you have set automatic product data recovery by Facebook, they will be updated without you having to intervene. However, if for some reason you want to manually start the import of your product data, know that you can do it: in "Data Sources", click on the name of the concerned feed and then on the "Settings" tab from the menu on the left. Finally, click on "Fetch now":