What are Google tags for?
Every day, there are more and more Google Shopping users. They look for ideas, compare products and refine their choice. This is possible thanks to the Google Shopping layered navigation system performance (on the left column) :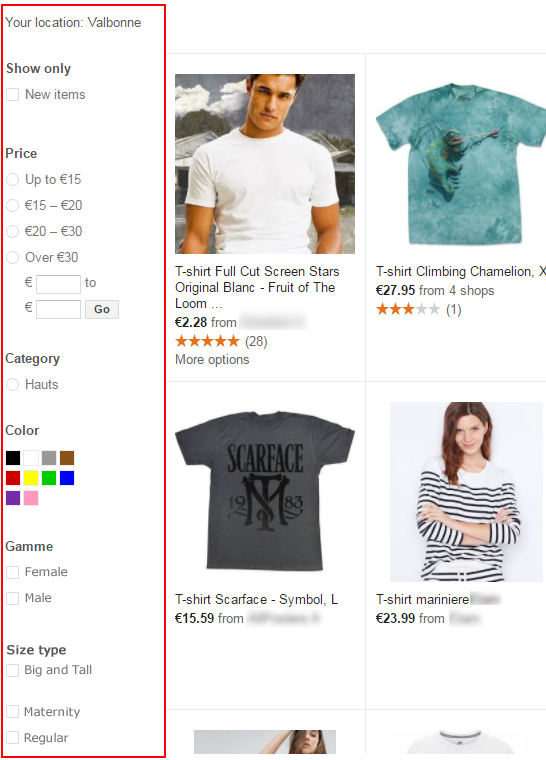 Thanks to this, users can refine their search making optimum use of these Google filters.
You, in turn, if you want these users see your products when they use filters, you must add tags on your products. For example, by adding a "female" tag to your women clothing, when a Google Shopping user will refine his search in order to only see products for women, your clothing will be offered him.
Please note that in general, the more information you will provide about your products to Google, the better your feed will be and the better your products sorting will be in Google Shopping.
For some of tags type, tags application is done by matching with the default categories of your products (to know what is the product default category, click here). These are the following:
"Adult" tag (products for adults only) :

<g:adult>

"Material" tag :

<g:material>

"Pattern" tag : <g:pattern>
"Gender" tag : <g:gender>
"Age group" tag : <g:age_group>
"Size type" tag :

<g:size_type>

"Size system" tag : <g:size_system>
Except the "adult" tag, these tags are mostly usefull for apparel. This is why their configuration is available trough the module "Feed management" section, in the "Apparel feed options" tab (except for the "adult" tag which configuration is done through the "Feed data options" tab). However they can also be applied to other product types.