What is the point of providing a brand for my products?
With the GTIN code and the supplier reference (MPN code), the brand takes part of "unique product identifiers". To read the Google official documentation about unique product identifiers click here.
The brand is used to help identify your product and will be shown to users who view your ad. It must be provided into the data feed for all new products with a clearly associated brand or manufacturer. However, as of September 30, 2019, products for which the mandatory brand has not been specified will no longer be disapproved. Their distribution will simply be limited compared to similar products for which the brand has been provided by the merchant. In order to optimize the performance of your items we recommend that you always provide the brand when it is mandatory. To know more on the update about unique product identifiers enforcement, click here.
If the product doesn't have a clearly associated brand (e.g., movies, books, music, and posters) or is a custom-made product (e.g., art, custom t-shirts, novelty products, and handmade products), the attribute is optional.
Note that in case you manufacture the product, or your product falls into a generic brand category, you can only provide your store name as the brand. For example, you could submit your store name as the brand if you sell white label products or customized jewelry.
Be careful: don't provide the Original Equipment Manufacturer (OEM) brand to indicate that your product is compatible with or a replica of the OEM brand's product.
For more information on Google's guidelines about brands click here.
You have to fill the brand in each product file by going to your PrestaShop back office (be careful that for PrestaShop 1.6 version, the brand has to be filled in the "manufacturer" field for each product).
Example for a PrestaShop 1.7 version: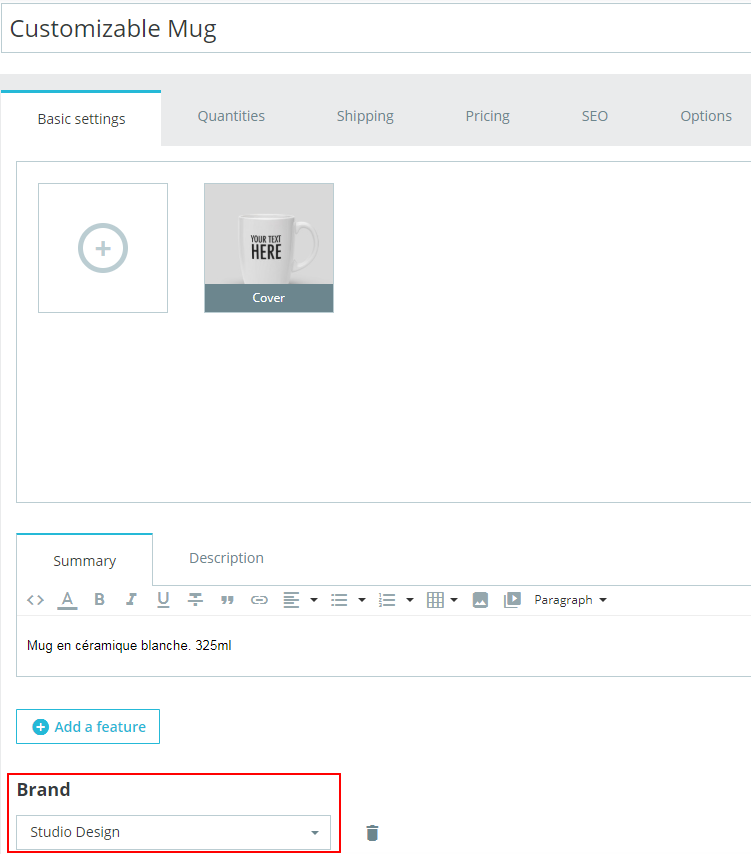 If you don't provide the brand and that this is not mandatory by the nature of your products, Google will send you a warning message about "unique product identifiers" but this will not block the diffusion of your products on Google Shopping, provided that:
you make sure the brands aren't mandatory for your area
you provide, instead of brands, the supplier references (MPN) AND the product brands
Please note that if you do not have the brand of your products and you only have one of the other two "unique product identifiers", our module will send, in addition to the available code, an "identifier_exists = false" tag to tell Google that your products have only 1 of 3 unique product identifiers and to make their identification easier. Likewise, if you do not have any "unique product idenfiers", the tag will be sent to give the information to Google and to try to get your products accepted. However, you must ensure that, by their nature, you can not recover the missing codes. Indeed, if the tag "identifier_exists=false" is sent when it is proven that you could have provided the missing unique product identifiers because they exist, your products will be refused by Google.

To know more about GTIN codes click here.
To know more about supplier references (MPN codes) click here.
To know more about "identifier_exists" tag click here.