How to configure my module?
The "Pixel for TikTok" module allows you to install a tag (pixel) to track the actions of your visitors on the pages of your site in order to display personalized ads on the TikTok social network and make them come back to your store. The pixel also allows you to create new audiences for your ads, similar to your customers, in order to attract TikTokers who don't know you but who could be interested in your products because they have the same profile as your customers. Finally, you can track the performance of your TikTok ads through the TikTok Ads Manager platform dashboard.
Prerequisites
To be able to install the TikTok Pixel on your shop, you must first:
Configuration
After installation, enter the configuration of your new module "Pixel for TikTok".
Setting up of the pixel on your site pages
In the "Pixel code" tab, enter the ID of the pixel generated in your TikTok Ads Manager account and save:

The pixel is now set up on your site.
Conversion value management
When the pixel detects a new order placed on your site, it sends the order amount to TikTok. This is called the "conversion value". We give you the possibility to customize this value by including or excluding taxes, shipping costs and/or wrapping costs. Make your choice by activating/deactivating the options in the "Conversion management" tab: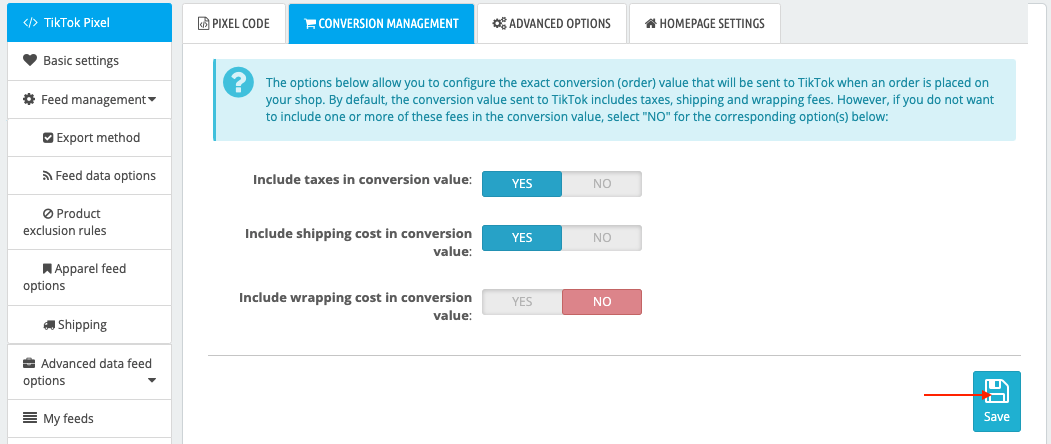 Advanced options
If your theme modifies the default HTLM elements associated with the add to cart and initiate checkout events, you have the possibility to indicate to the module the custom events to take into account instead of the default ones. To do this, go to the "Advanced options" tab and change the default values to your custom values for the fields concerned: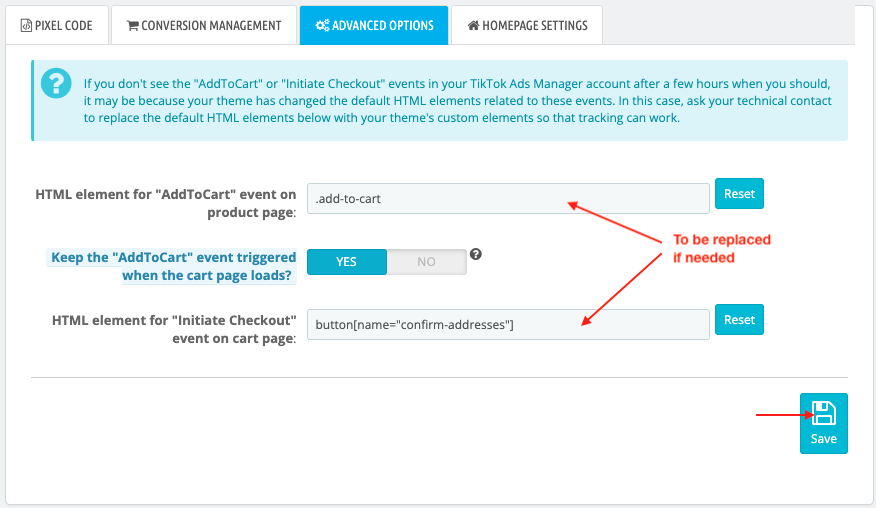 Tracking of events on products on the homepage
Finally, you can disable event tracking on products on the homepage by selecting "No" in the corresponding option in the "Homepage settings" tab:

Other FAQs in this category