How to automatically update my feeds (on-the-fly output or CRON task)?
Catalog with less than 1000 products: "on the fly" recovery
If your catalog has less than 1000 products, in your Google Merchant Center (Google Shopping) account, you can indicate, for each feed, an "on-the-fly" output URL (i.e for a real time recovery).

These URLs are in the module's back office. To retreive them :
On the module "My feeds" tab, click "Use this solution" on the "On the fly output" method: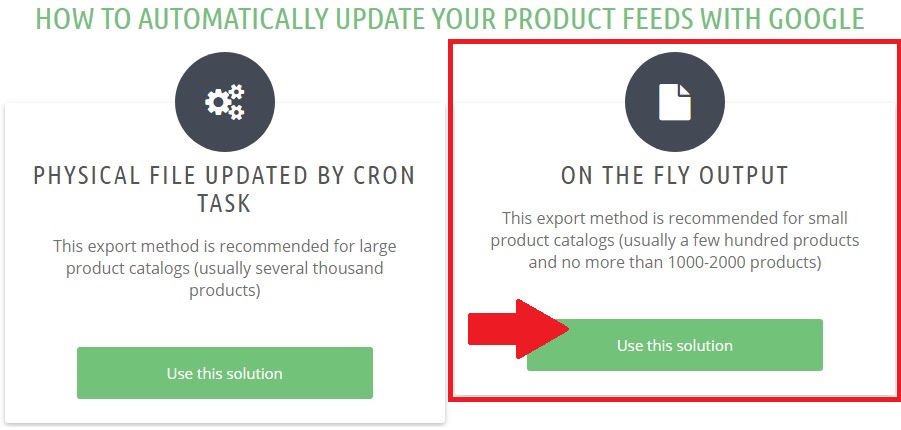 There is one different URL for each feed (a feed matching with a Langage/Country/Currency combination). For example : one URL for french/France/Euro, another one for french/Belgium/Euro, etc... :

Test and see if that works. If not, it's possible that your catalog is too large : the "on-the-fly" output takes too long and the script times out before it can entirely generate the feed. In that case, you rather have to use a physical XML file (installed in your server) that will already contain all feed data and that will be updated regularly by a "CRON task". Then, go to the next section.
Catalog with more than 1000 products: CRON task setting up
If your catalog has more than 1000 products, your server may not be so powerful to support an "on-the-fly" output. You indeed need, before Google retreives your product data, to copy them in a XML file, that is "physically" on your server. This file will then be retreived by Google.

Of course this file has to be updated regularly, to make any changes you may have made in the meantime. So, the first thing to do is to intall an automated task that will update this file, at a frequency you'll decide on : it's what is called a CRON task.
To technically set a CRON task, read our dedicated FAQ by clicking here. Note that if you don't have any technical skill, you can ask your webmaster for help.
Moreover, to install a CRON task you will need to get its URL. Follow the following steps to retreive it:
In the module "My feeds" tab, click "Use this solution" on the "Physical file updated by CRON task" method:

Then everything depends on what is more convenient for you:

If you want to set a general CRON task to update several feeds in the same time: in this case, check the feeds you want to update and click "Save" (on the right). After that, a general CRON's URL will appear in "My CRON URL" section. It's this CRON's URL you have to copy.
In the following example, the 3 feeds : fr-FR, fr-BE and it-IT, will be updated at the same time when the general CRON's task (surrounded in red) will be executed.

If you want to set a CRON task for each of your feeds, in order to update them one by one, in a time-shifted manner (to avoid a servor time-out): in this case, don't check anything and copy each CRON's URL one by one (that is to say the URLs that are under the general CRON's URL, in the example above).
It's this solution you will have to use if you tryied to execute the general CRON task (as it's explained in the first bullet point) and you noted that all your feeds weren't correctly generated (the data number is too large to execute several feeds at the same time).
Once your CRON task is set and configured, you just have to copy and paste the XML files URLs in your Google Merchant Center online account. To know how to do, click here.